In 2021 we launched a new 6cp Open Learning Environment unit: OLES1602 The Apocalypse in Science and Culture. The unit was designed to be taught in hybrid mode, with rich online material as well as weekly guest seminars and hands-on workshops (the major project required students to create a video in small groups). However, COVID-19 constraints meant that we ran it entirely online. 
As a non-core unit, we wanted to make student engagement the central focus. The key learning objective was to get students thinking about (and communicating about) topical scientific issues through the lens of apocalyptic scenarios.  
The cohort was diverse. Almost exactly half of the students were international students located overseas, and about half were in their first year of university. They were studying degrees across Science, FASS, Business, and other areas.
The challenge was how to achieve high engagement throughout the semester, in a way that was enriching for students and helped achieve the learning objectives. In this article, we describe five things we tried in OLES1602.
1. Incentivising engagement via small low-barrier assessment tasks 
One of the great things about a large cohort is that you have a ready-made learning community. However, to make the most of this, students need to engage. Even if only a fraction of the students contribute each week it generates rich discussions that benefit all staff and students.
To incentivise participation we allocated 10% of the total mark to easily achievable tasks: one mark per week of seminars. The mark could come from any one of a number of tasks: e.g. posting on Padlet, asking a question in a seminar, or contributing to discussion in a workshop. An additional 10% of the marks were awarded for completing short multiple-choice quizzes based on the weekly readings. 
We measured the success of this via the fraction of students who achieved the participation mark each week. This started off at about 90% of students and remained high at approximately 80% of students by the end of semester.
By having only 10 marks in total, and a range of different ways that students could attain them, we took the pressure off participating in any particular mode and left it to the students to choose their preferred ones.
2. Encouraging personal contributions via Padlet
Part of what makes a learning community effective and enjoyable is feeling like you belong. In many science-focused courses, there isn't a lot of space to share yourself: your perspectives and opinions. We wanted to enable discourse in such a way that people felt comfortable sharing thoughts about sometimes controversial topics.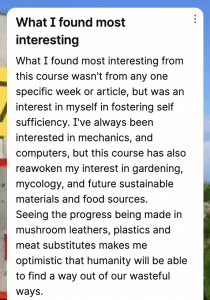 Each week students were asked to post on a Padlet wall about something personal but not challenging: for example, sharing their favourite apocalyptic movie. The aim was to encourage students to watch a new movie or rewatch an old favourite, and hopefully, also start a discussion about this with their peers. Each week we changed the topic so that students were sharing book reviews, a hopeful post about avoiding nuclear disaster, or their favourite futuristic robot. The Padlet walls were fun:
they allowed teaching staff to discover what students were interested in, and they helped build up a sense of a shared learning experience.
3. Encouraging informal engagement during seminars 
Each week there was a seminar by a university expert, on an apocalyptic topic. The material was not examinable, which allowed us to make the sessions entertaining as well as informative, and to incorporate social elements. We wanted to experiment with watching seminars the same way students watch videos or games online – chatting at the same time.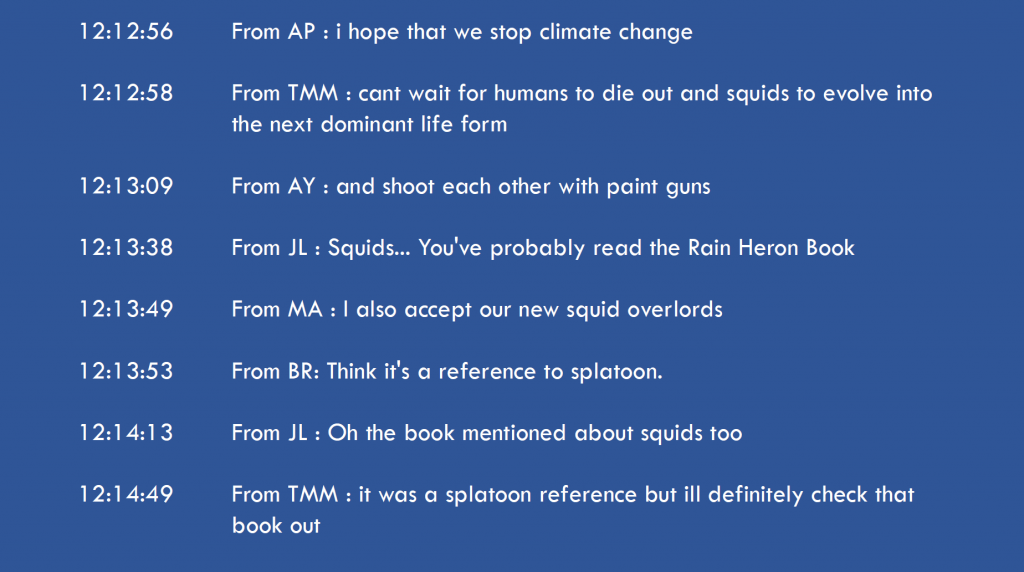 To do this, we encouraged chat in the Zoom webinar while the seminar speakers were speaking. It was remarkable to watch the student chat develop in parallel to the seminar, often diverting to topics tangentially related to the subject at hand, and occurring with a level of informality not usually seen in classes. The chat enabled a shared experience for students of watching the seminar together, and it allowed them to commentate on it in their own way. Students often recommended relevant books (fiction and non-fiction) to each other; they made jokes, and they presented political opinions.
The chat sessions required some moderation when they (occasionally) strayed into inappropriate territory, and the nature of the student engagement may have been surprising to some of the seminar speakers. However, most of the time it was fun and constructive, and students commented that these were the most enjoyable lectures they had attended at university.
4. Tracking student engagement via SRES
To incorporate engagement methods into the unit of study assessments, we needed to capture participation in an automatic way. Through this combination we were able to automatically capture and mark the following activities:
Completion of Canvas quizzes (via Canvas + SRES)
Attendance at workshops (via SRES)
Participation in workshops (via tutors using SRES)
Attendance at seminars (via Zoom logs)*
Participation in seminars (via Zoom Q&A logs)*
Posting on Padlet walls*
Commenting on Padlet posts*
The points with an asterisk required custom scripting (we used Python).  
5. Following up students who are struggling via SRES  
Our aim of maintaining high engagement from students throughout the semester was achieved for most of the cohort, but there was a small but significant fraction who did not become involved.  Some of these were in the category of "ghost students" (non-participating enrolments) who did not engage at all, but there were also students who were keen to participate but were struggling, for various reasons.
Early in semester, we emailed students who were not participating using SRES. We asked if there was anything we could do to help them and clearly stated which tasks were required each week. The emails elicited very positive responses from students who revealed that they were having difficulties transitioning to university, had met language barriers or were struggling to learn in isolation. By the middle of semester, we were confident that everyone who wanted to learn, had been helped to find the right path! 
Thank you so much for your email which remind me the tips of how to contribute to this course.
(unsolicited student response to SRES email)
Want to know more?