Online by Our Design provides a platform for innovative teaching practices and tips to be shared across the Faculty of Arts and Social Sciences. Recently we've been capturing some of our colleagues' experiences of teaching during 2021, both on and offline, across the faculty. This interview shifts focus and instead looks at students and their barriers to engagement more broadly, and how to affect cultural change with colleagues.
Beatriz Carrillo Garcia is a senior lecturer in the Department of Sociology and Social Policy and the 2021 recipient of the Faculty of Arts and Social Sciences Academic Enhancement of Student Life award. I interviewed Beatriz about the projects she has been involved in over the past few years that led to her award, including the first school-based project, which I was also involved in.
Leanne Stevenson: You've been involved in several projects and initiatives that seek to enhance the student experience, what drew you to this area of interest?
Beatriz Carrillo Garcia: I've always loved teaching and learning, and the interaction with the students has always been the area of my job where I get the most reward, so I'm always keen to look at ways in which I can improve the student experience within my own classroom. After I became an undergraduate coordinator and academic advisor, I started to see more and more of the issues that I was seeing already in the classroom. Students are encountering various difficulties that were not necessarily academic, but rather relating to them being an international student, being from a low socio-economic background, having a disability, suffering from mental health issues and so on. I realised that I wanted to see the ways in which I could do more beyond what I teach in my own tutorials and units and started to ask, 'how can we as a school improve the student experience?'
I worked with the school undergraduate coordinator, and we put forward a school project to widen student participation looking into two transitions: into university and out into the workplace. I really wanted us to concentrate primarily on the issues that affected underrepresented groups of students within the school.
Leanne: Can you tell me about the Widening Student Participation project?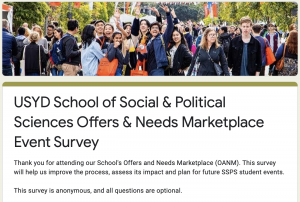 Beatriz: Originally it was about how we provide support to particular groups of students transitioning in and out of university. I had been working in theories and methodologies to foster transformative learning, specifically Theory U, and in 2018 I had done some work in China where I ran a Social Innovation Hub based on Theory U and the U lab. I had these different theories and methodologies that could be used to foster transformative learning and had seen how effective they were, so when we got the funding for the Widening Student Participation project, I thought, this is an opportunity to practice those methodologies with our own students here at Sydney University. We selected a group of 25 students and did two weeks of training with the Post Growth Institute who run an Offers and Needs Marketplace, a methodology for creating networks and peer connections, and as a group, we learned how to facilitate inclusive online events.
So, the project brought in different theories and methodologies that focused on how we build relational capacities that help students to build leadership, to build their collaboration skills, their confidence in how they engage at university and in the world. The training at the beginning to become online facilitators was really helpful in creating a sense of cohort amongst that small group, which was also really important for the success of the project.
Then we held three workshops in collaboration with community organisers and social entrepreneurs that have their own organisations working with underrepresented youth in communities. They helped us to run three workshops with the students where we looked into what does it mean to belong at the university, what are the challenges students face when they are low SES, or come from a rural area, or they're international students, or they're non-native English speakers, from culturally diverse backgrounds, or with a disability. We wanted to create a safe space for them to give us their opinions and tell us about their own experiences being at the University of Sydney. Out of the discussions, students started formulating prototypes or ideas about potential projects our school and the wider university could put into place to improve representation, improve the overall experience for students like them, and create a more inclusive environment for underrepresented students. At the very end, we also had a session with a couple of alumni who talked to the students about the skills needed for the new work environment, what they should be looking into and cultivating as they progress through their degree, as well as getting them to think about what they are going to do after their degree – where and how are they going to place themselves in the labour market.
Leanne: What have you learned about students out of these close collaborations? What have you learned about student life and the student experience?
Beatriz: I learned to investigate my own assumptions about these students. We have to have more conversations with them in order to really know what their experience is. Although as an academic advisor I could get a sense of the difficulties that the students face, I wasn't really aware of the extent to which a lot of these students feel like they don't belong,…
…they feel out of place within the university, and I think that's a really troubling thing for us to think about. Yes, they are a minority but we can't have a student experience where the majority are well, and some students feel really an alienated.
Most of the students were either in the second or final year of their degrees and we heard students ready to graduate say 'I didn't feel like I really belonged within the university or within my degree'. It's really terrible to have graduates who felt like they never really belonged, or they never really had opportunities where they could make meaningful contributions to their disciplines, their degree or even just more broadly to the university. One of the big discussions was around the language we use in order to engage and talk to students from these underrepresented groups, and this fear about labelling…but by not engaging in that conversation, we were actually losing an opportunity to really address the issues and find out what are the best ways in which we can engage with them. If we say, 'You can't say you are going to recruit low SES, because that label's them', we are also losing an opportunity to really engage them. A lot of students were saying 'I don't know if this was for me when I saw the ad' and a lot of students attended the first meetings just wanting to know 'is this for me, or is this just another networking thing, where again I don't feel like I belong, and this is not for me'. We learned you've got to give them a safe space to express themselves, but you also have to be mindful of your own assumptions.
The students were working on a series of prototypes and had the opportunity to start talking to the leadership and key committees, such as the Education Committee and the Social Inclusion Committee for Student Life. One really great outcome was a couple of the students worked with PeerPod, a podcast that is run by the library through peer learning advisors. It's a podcast made by students for students, so we collaborated with them and put together two episodes. The first episode was about the culture shock of those who are first-in-family to go to university and the last episode was a USYD-UTS collaboration on this idea of inclusion versus belonging and how they're not actually the same thing. Oftentimes, there are initiatives or strategies to promote inclusion but if the student voice is not included, it might not necessarily lead to belonging.
Leanne: What is your next project?
Beatriz: I've also been involved with a project linked to the new Indigenous Strategy, One Sydney, Many People, and that project is also about cultural change within the university. There are synergies between the two projects, they're interlinked, but with different audiences, one focused on students and the other one is more about us as an organisation, as a community of academic and professional staff.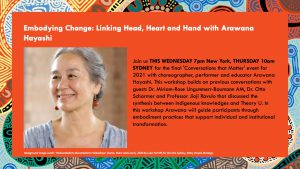 I want to continue that work and we're talking about collaborating with other colleagues in my school who also got a grant with the One Sydney, Many People Strategy investigating how we decolonise our curriculum. So, we're looking into potentially doing a joint project where we facilitate those conversations among academics because how we decolonize our curriculum and what we teach and how we teach, is going to be an interesting conversation to have even just within our school.
We've got some methodologies to help run these difficult conversations.
That is the plan in the works and then we also want to do more facilitation seeking more cultural shift in terms of bringing in Indigenous knowledge and Indigenous methodologies to how we operate as a university. It's really big, and we're starting small, but we had a really good response to the Conversations that Matter project. We want to bring people together from different parts of the university and start talking about how we can do things differently and how we can engage with each other differently, and I think people appreciated that.
Conversations that Matter: https://www.sydney.edu.au/engage/events-sponsorships/sydney-ideas/2021/indigenous-knowledge-in-higher-education.html
Follow Jayce Pei Lee on instagram
Other Teaching@Sydney articles in this series