How have we adapted our Canvas sites alongside our teaching in recent COVID times? Over the last two years, and since our previous Open sites edition in 2018, the bulk of learning and teaching has taken place online or in HyFlex mode, placing a much greater emphasis on online learning spaces to inspire learners, enable active learning, foster and support collaboration and discussion, and facilitate all-too-important connections between educators and their learners.
Here unit coordinators and designers across the University share their Canvas designs from 2020-2021 as Open sites, which are accessible to the University community to tour and take inspiration from.
PLAN9073 GIS Based Planning Policy and Analysis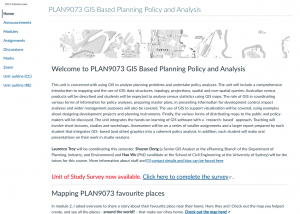 This unit weaves together students' own stories of place and space with the learning outcomes of the unit to enable personalisation and deep engagement with the subject matter. An interactive map visualises learners' responses to a prior activity, demonstrating the value of mapping and presenting information visually. 
Key features:
Interactive tools such as Padlet and Qualtrics for active tasks
Clear, well-structured module and page layouts using icons, chunking of information and links to relevant resources
Embedded short pre-recorded lectures with captions enabled
Visit PLAN9073
CPAT3202/ 3902 Pathogenesis of Human Disease 2 (Adv)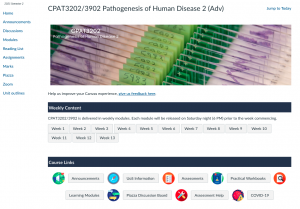 The homepage on this site is a one-stop-shop with links to all the topics and info students will need to access throughout the semester. An embedded welcome video provides a helpful orientation to the unit and there is even an embedded Qualtrics survey giving students the opportunity to provide feedback on the unit. Tabs are used to separate out content for each week, making it easier for students to toggle between the learning materials in a given week.
Key features:
The homepage provides links to all the weekly materials and information students will need to access across the semester
Several embedded tools allow students to provide feedback on the unit, including an embedded SRES survey at the end of each module
HTML tabs allow easy toggling between materials for any given week
Visit CPAT3202/3902
MKTG5001 Marketing Principles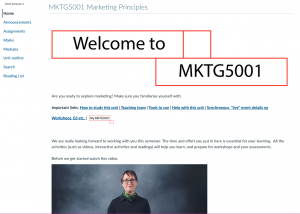 The coordinators and designers of this site have constructed ways to invite meaningful learner engagement with the theories and principles of marketing. Interactive reflection prompts, (achieved through SRES) begin in a welcome week orientation module and are threaded throughout the subsequent weeks to capture learners' ideas and reflect back on how knowledge-building has occurred over the semester. Embedded short videos and H5P objects (not currently available as an enterprise tool) further serve to diversify content presentation.
Key features:
Short welcome week orientation module that asks learners to reflect on how they like to learn and to consider their current understanding of the subject
Embedded SRES portals throughout the site which capture student responses to activities and reflections on their learning 
A one-stop-shop My MKTG5001 SRES portal where students access all their responses and receive feedback on tasks and assignments
Visit MKTG5001
FASS1000 Studying Arts and Social Sciences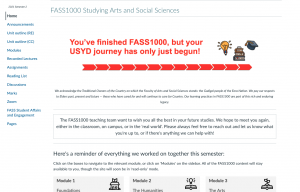 The team behind this site created a separate homepage for each week of the semester, providing students with quick access to the learning materials for each week. Students could also access the weekly materials via the well-organised Modules page, which provides a quick overview of the consistent and linear course structure. Liberal use was made of interactive tools like Mentimeter and Padlet in lectures and a weekly podcast added further variety to the learning materials students could engage with.
Key features:
Clear landing page with links to learning materials for that week
Consistent and linear structure throughout
Nice use of interactive tools like Mentimeter, Padlet, and SRES
Visit FASS1000
NURS3016 Professional Practice – (BN[AS])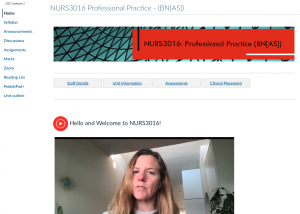 The learning outcomes embedded on the homepage mean that students can easily refer to them throughout the semester to reflect on their progress through the unit. All the materials for each week are on a single page, and an overview at the top of each weekly page provides a convenient snapshot of the learning activities for that week. Embedded video content provides lots of opportunities for students to further explore topics at their own pace.
Key features:
A welcome video on the home page
Each week has its own page with a weekly overview at the top and a guide to how much time should be spent on each activity
Learning outcomes are listed for each week
An info page clearly communicating expectations for the unit
Visit NURS3016
INFS5002 Foundation in Digital Business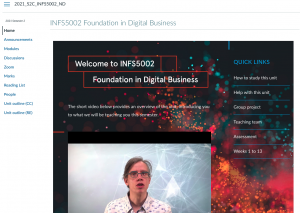 The stylish homepage with quick links and a welcome video creates a striking first impression of this site. Each week begins with a pre-recorded video providing a clear overview of the week to come, and the Modules page has a neat and repeating structure which makes it simple for students to gauge their progress through the learning materials. MIRO is used to facilitate group activities and there is a video providing a clear introduction to using MIRO in the orientation materials at the beginning.
Key features:
Striking homepage with quick links and a welcome video
Clear and linear Module structure
Orientation materials clearly introduce the learning tools which will be used in the unit, such as MIRO
Visit INFS5002
FASS3999 Interdisciplinary Impact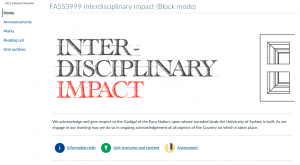 An SRES portal embedded on the homepage of this site means that students are greeted with a personalised welcome and a summary of the week to come. Rather than using modules to organise course content, this site uses a branching page to provide an overview of the course structure and links to the materials for each topic. There is a separate page clearly summarising each of the assessment tasks and even an 'Info Wiki' with answers to some frequently asked questions.
Key features:
Personalised homepage using SRES
A welcome video on the home page, introducing students to the teaching team
An overview page with links to the materials and activities for each topic
An FAQ page ('Info Wiki') with answers to some commonly asked questions
Visit FASS3999
OLET5704 – OLET5704 Creative Thinking and Innovation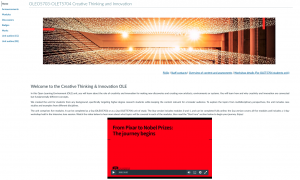 This Open Learning Environment (OLE) site hosts two units of study for students across the University to explore the importance of creativity and innovation. High-production value videos are used throughout to introduce concepts and serve to familiarise learners with the team of educators behind the OLE. Students are encouraged to test their knowledge via regular formative quizzes which are embedded into pages using H5P (not currently available as an enterprise tool). 
Key features:
Embedded H5P and Padlet objects which encourage learners to test their ideas and participate via active tasks
Short high-quality videos to introduce topics
Well-designed page and module layout using bespoke icons, module text headers and indentation
Visit OLET5704 - OLET5704