Attendance tracking is commonly used as a measure of student engagement and participation in higher education, but taking rolls alone does not provide a complete picture. When meaningfully designed, check-ins can give an opportunity to understand student wellbeing and build student-teacher relationships at scale. The Student Relationship Engagement System (SRES), designed and developed by Sydney teachers, harnesses the power of learning analytics to help teachers build meaningful connections to support student learning. Using SRES, attendance tracking becomes a chance to build those connections, and support students in developing positive relationships with you, the University, and their studies. Here we'll propose a few ideas or options, but use them as a starting point; SRES is a powerful system. Trash the spreadsheets and throw out your paper rolls, let's dig into the possibilities. If you're new to SRES, scroll to the end for our short "getting started" summary to get you up to speed.
Thank you to Dr Grant Hooper from the University of Sydney Law School for contributing anonymised screenshots of the LAWS2010 SRES list to this article. 
Create a simple weekly 'check-ins with insights' plan
To start with, think about creating a communications plan for your unit. Something like this isn't absolutely necessary, but it will help you highlight the critical points in semester where you need to be checking in with your students, and plan around them to ensure your students feel supported and have the tools they need to succeed.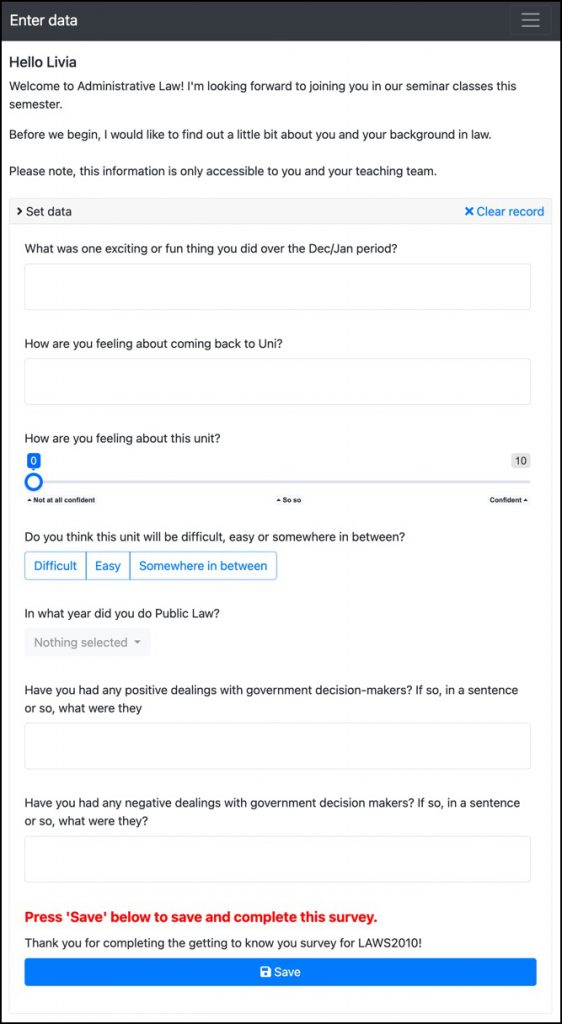 At the start of semester
Before classes begin, you can use the data already available through SRES to welcome students to your unit, and create a simple survey to get to know them. In the survey you could ask your students:
Their preferred names
Their pronouns (if they wish to share)
How they pronounce their names (yep, SRES can record audio!)
To upload a picture or avatar that can be added to weekly rolls
How ready they feel for starting University or taking your subject
What they're most excited about studying in your unit this semester
Whether there is anything they're worried about in terms of their study this semester
…and lots more – SRES surveys can take in simple data, more complex data, audio recordings, drawn images, uploaded files, etc.
Across the semester
You can provide students with weekly check-in columns that both keep an eye on attendance and make sure students are feeling supported and keeping up with your unit. These could be provided in lectures, tutorials, follow-up emails, on Canvas, whatever is most appropriate for your approach to communicating with students. Coming back to that communications plan we mentioned above, for each week of semester you could write one or two targeted questions grounded in whatever is going on at that moment in time. Be adaptable with these too, you might use them to respond to things that are going on in the world either in general (think about how helpful these could have been in March 2020!), as relates to your particular unit, or in terms of what's going on in the University.
Here's a made-up plan for a unit with some key selected weeks included: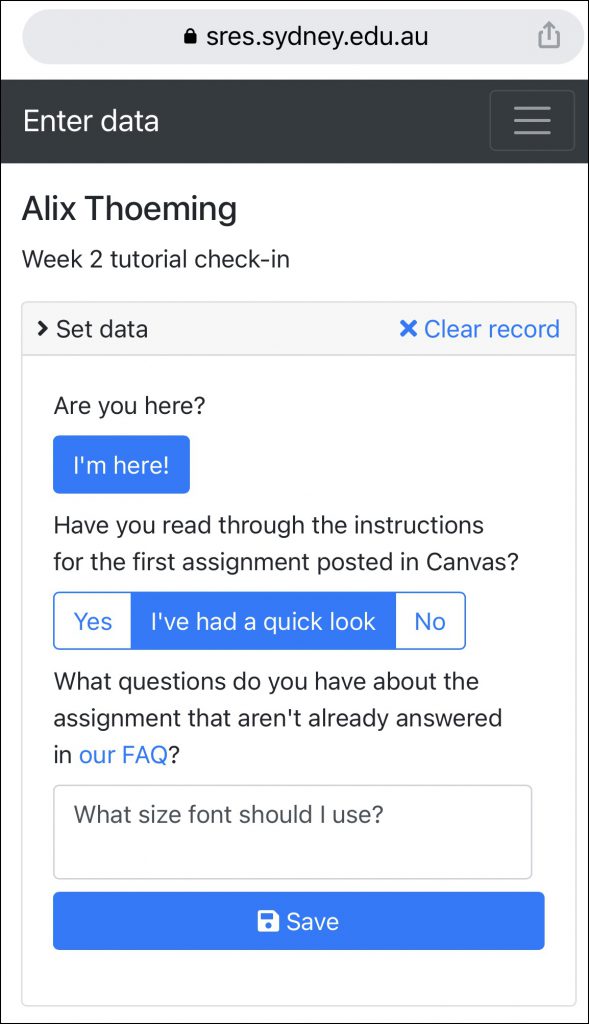 Week 1
How confident are you feeling after our first lecture that you made the right choice in enrolling in UNIT1234? (emoji options to reply)
What more information do you need about this unit before finalising your enrolments for the semester? (text box to reply)
Week 2 
Have you read through the instructions for the first assignment posted in Canvas? (button options to reply)
What questions do you have about the assignment that aren't already answered in our FAQ? (text box to reply)
Week 4
How are you feeling about the first assignment due this Sunday? (dropdown or emoji options to reply)
How on top of the unit content do you feel so far? (slider with options 0-10 to reply)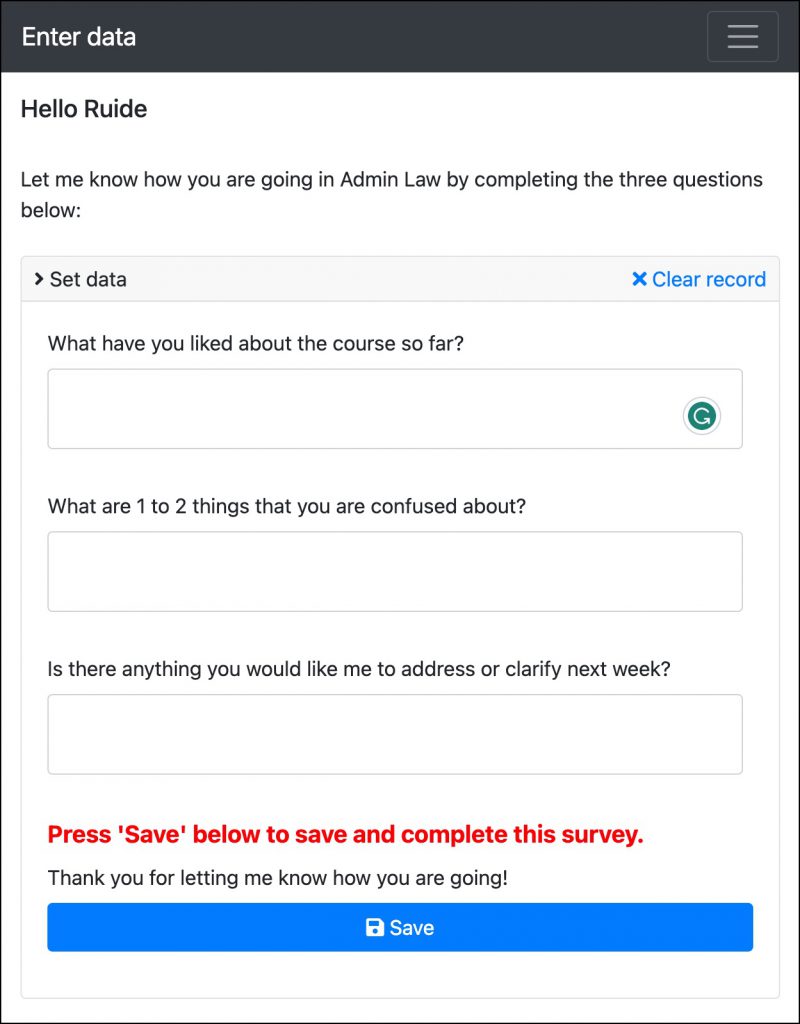 Week 6
It's census date this week, are you going to continue studying this unit? (dropdown options to reply)
If you said no or you're not sure, would you let me know why in case I can help? (text box to reply)
Week 10
We released your feedback for the major assignment this week, have you read through it thoroughly? (select buttons to reply)
Which of the suggestions made by your tutor will you integrate into your next assignment? (text box to reply)
Doing something with the data
It's one thing to find out things about students, but SRES really shines when it comes to following up with your students. We strongly advise, wherever possible, using this data to either inform how you adapt your unit of study on the fly or to provide students with support. Commit to building a follow-up action into your communications plan every week so that you can ensure the data you're collecting about students are meaningful and your strategies are designed to explicitly support them.
Some examples of how you could use the data you collect to follow up with your students: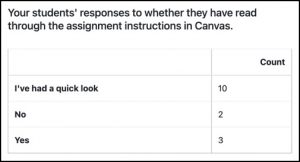 For the survey question 'How do you pronounce your name?' you could add recordings to SRES tutorial or lab rolls for the first few weeks, so tutors can welcome students feeling confident about what to call them.
For the Week 1 question 'What more information do you need about this unit before finalising your enrolments for the semester?' you could collate all of the responses and answer them in an announcement sent to all students on Canvas.
For the Week 2 question 'Have you read through the instructions for the first assignment posted in Canvas?' you could look at the overall balance of answers and decide whether or not to dedicate more time to going over the assignment instructions in tutorials or labs that week.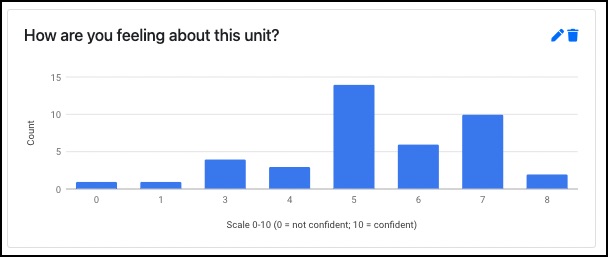 For the Week 4 question 'How are you feeling about the first assignment due this Sunday?' students who answer that they are not feeling positive could receive a supportive email that contains information about support services, simple extensions, special consideration, etc.
For the Week 10 question 'Which of the suggestions made by your tutor will you integrate into your next assignment?' you could re-send students the information they entered into the text box when the next assignment is due to remind them of their commitment to themselves.
In addition to using student responses to build support for students, you can use summaries or teacher insights in SRES to give both yourself and your teaching team more information about what's going on. Summaries can create histograms, word clouds, pie charts, or tables, and can summarise a lot of data easily. Teacher insights can ensure teaching teams get important information about students at the right time, helping them direct their efforts during live classes to check in with students in a personal manner.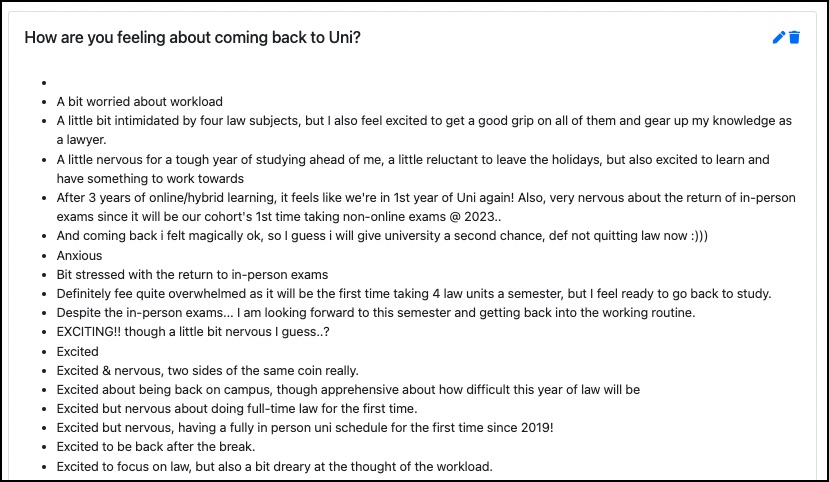 ---
Getting started with SRES
If you're new to SRES, it's important to go over how you gain access to the system. The best way to get started is to attend an SRES workshop. These take place regularly at the start of each semester and you'll be provisioned access then and there. Another option, if you can't get to a workshop, is to work with a colleague who is already using SRES in their own unit or an educational designer in your school or faculty, who can run you through the basics, and let us know that you've got an expert guide at your side.
Think of SRES as a spreadsheet on steroids; it can contain different insights and types of data, and connects to Canvas for regularly synced updates on information that's already found, or sometimes hidden, inside our learning management system. Put simply, the layout has students in rows and data about the students in columns. Each weekly check-in form would be one column, a getting to know you survey would be one column, and a reflective task you set your students would also be one column. You can also have students write in data about themselves, or have your teaching team write in data about them – think self-check-in vs. calling the roll. Students can also write in data about each other for a peer review or the like, but that's for another article!
Want to know more?