In Semester 1 2021, Tamara Neal taught in HyFlex for the first time, in two language units with multiple workshops a week, and continues to do so. HyFlex is a teaching mode where students attend scheduled classes either face-to-face or via a video-conferencing platform at the same time. HyFlex (in the strictest sense) also means that students can participate with content occasionally or even entirely asynchronously. The following article shares Tamara's tips for HyFlex, based on her experience in Semester 1 2021 and revisited in 2022.
All of Tamara's HyFlex classes, 7 hours a week, take place in the same room, which has a resident PC and one camera. Face-to-face students see the Zoomers & the slides; Zoomers see the slides and Tamara. Everyone can see and use the chat. The room has a lapel mic, but it does not get passed around because it inhibits spontaneity (and there are hygiene concerns). Rather, Tamara drapes it over the resident PC, checking that Zoom students can hear and repeating questions and comments from the face-to-face students. Tamara also brings her laptop and ear-cancelling headphones so she can 'visit' students in breakout rooms without interference from the resident PC.
There are, of course, the kinks to iron out. Tamara learned quickly she had to stand in front of the PC if Zoom students were to see her. The ECHO360 recording would snatch the Zoom camera and override it, again interfering with the Zoom students' view of her. Tamara doesn't encourage students onsite to be online as well; in her experience, it takes away from the more social and informal interaction that happens face-to-face, and there are equity issues in asking students to come to class with the right equipment to be online. The size of the class matters as well, as the instructor has to be very mindful of keeping everybody in their sights.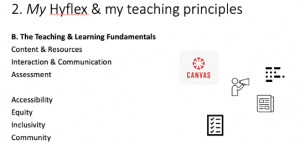 It all sounds very techy and a lot to juggle, but Tamara insists that she is no tech-whiz and her interest in HyFlex is what it provides beyond a student's participation mode. A HyFlex course entails consideration of teaching and learning fundamentals, all of which are predicated on principles of accessibility and equity – to a degree, these are what enable its flexibility. The foundations of a successful HyFlex course are the same as any other:
Content: it is essential to have an easily navigable & comprehensible LMS (in our case, Canvas); it's a one-stop-shop with a clear organising framework.
Interaction: with peers, with content, with instructors: straightforward, clear
Assessments: equitable access, which means they're all online.
In a course delivered in HyFlex mode, and this is fundamental, all students must have an equal chance of achieving the same learning outcomes regardless of their participation mode.
Fostering engagement, building community 
Tamara adapts her teaching principles to HyFlex. It's the pedagogy, not the technology that counts.  A HyFlex class focuses on fostering engagement and building a community of scholars. The degree of flexibility in a HyFlex class, however, resides within the instructor.
In Tamara's version of HyFlex, flexibility is the key. It means students have the autonomy to attend in whichever mode they prefer on any given day. Whether enrolled in CC or RE, students can attend classes F2F or via Zoom or not at all. A student might attend in person on Monday, Zoom in on Tuesday, and watch the recording on a Wednesday. Or they might not attend classes for a few weeks, or even for the entire semester, due to their time zone, health issues, or anything else.
While students have choices about how they attend, Tamara knows that students perform better and feel they belong if they do attend synchronously. This is the virtue of HyFlex – it enables synchrony across spaces. However, not everyone has a choice to do synchronous participation, so for reasons of equity Tamara is mindful to engage asynchronous students so that they also feel part of a collegial learning community.
How does flexibility create community? First, it promotes inclusivity. Second, the benefit of offering flexible participation is that students experience both learning spaces, which means they know how to occupy these spaces, and they know how to relate and communicate with one another from experience in both. When students are limited to only engaging face-to-face or engaging remotely, they would not be so accommodating of the other space. However, because they are given the opportunity to experience learning via either mode, it builds understanding and helps to set expectations: 'Okay, this is how I need to talk, or I need to listen carefully when students in the Zoom space are talking'.
Be flexible. Also, be adaptable. Things will not go as planned.
Open avenues of communication
Clear and multiple avenues of communication enable accessibility and equity, and invite engagement, particularly for remote students, in the asynchronous space. Tamara utilises five core modes of communication:
Email. Be prompt and responsive.
 Weekly round-up letter with reminders about assessments, a relevant news item or video, and so on. This keeps students 'checked in,' and they like them.
Comments in Canvas assessments. Students, particularly remote students, use these boxes to ask questions, query marks, etc. Students use them because of their immediacy and because they enable spontaneity; they don't have to remember to ask a question the following day or send an email.
Bi-weekly 'reflection'. Ask students to share thoughts about their learning each fortnight. Intended as a way for them to reflect as a strategy to enhance (and direct) their learning; it turned out to be – also – a valuable avenue of communication and connection, at the individual level. Tamara then shares common themes that emerge, with the class, which is helpful for increasing connectedness among the whole group. The feedback gained in this forum informs adapting her teaching where appropriate.
Weekly Zoom consultations. Lock them in.
Foster interaction
Provide opportunities for students to speak to each other and to the instructor wherever possible. The underlying principles are equity and inclusion.
Meet & Greet: Tamara spends the first five minutes of her Monday classes asking students how their weekend went, and this leads to random chitchat. She also gets to 'class' a bit earlier; there are almost always a couple of students there before the hour. Tamara encourages belonging and community through small rituals of interaction at the start of class. For example, one class featured a joke of the week; this was collated at the end of semester for the whole class.
Utilise the chat: This is good for students who are shy about speaking up or find it difficult to be heard when they're in the Zoom space. The chat can also take on a life of its own, and that is what allows connections to occur between Face to Facers and Zoomers (since spontaneous and sustained dialogue between those cohorts can be clunky). Assign someone to monitor the chat. This is not just for the instructor's benefit. It gives students responsibility for the learning environment, which can be good. The same principle applies to tech issues – don't be afraid to ask the students for help.
Allow private messaging: Assume and trust that people use this function in the same way that most of us do when we attend Zoom meetings. To connect.
Elicit feedback: ask questions regularly (and wait 8 or 9 seconds). Questions will be forthcoming.
Allow for spontaneous & off-topic moments: Ask for the pet pictures. Show the YouTube clips, relevant or otherwise.
Check-in: regularly with the Zoomers, to ask if they can hear their F2F colleagues. Repeat a question or comment, or filled the Zoomers in on the class banter, especially if the conversation is moving too quickly to be picked up by the mic. It's a simple way to cultivate inclusivity, and students really appreciate it.
Always acknowledge students where practicable. If someone types goodbye in the chat, say goodbye back.
Social media: Encourage students to create Facebook chat groups, which allowed for asynchronous interaction between students with FB accounts. Private communication between students benefits them.
Share the Teaching and Learning space with students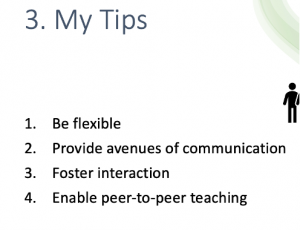 Peer-to-peer teaching/learning has loads of reported benefits, and enables students to take responsibility for, and even to 'co-own' the HyFlex learning space. That creates engagement and community.
Class presentations: These are one way of enabling peer-teaching. Ask students to prepare class presentations on examinable material, for low stakes marks. A short slide presentation, delivered in the classroom or in Zoom gives students a chance to teach their peers, and inhabit the HyFlex spaces in yet another way.
Invite student expertise: Ask students to make connections with their other units and disciplines, and to share their knowledge with everyone. In this way, students across spaces and the instructor get to know one another on an intellectual level; become colleagues by sharing and broadening the collective's intellectual perspectives and horizons.
Group activities: Finally, small-group activities are great for facilitating peer-learning, and great for fostering relationships. And, even if students do not engage with group activities in the synchronous space, they can do so asynchronously.
In conclusion, Tamara's approach is simply pedagogically-informed ideas applied in the HyFlex space. They take their cues from the flexibility – and the equity and accessibility – that underpins HyFlex with respect to attendance and are then extended to communication, classroom interaction, and student-led teaching and learning activities.
Want to know more about HyFlex teaching?
Our Teaching in HyFlex at Sydney guide has technical, pedagogical, and classroom management tips to help you conquer HyFlex teaching.
Sign up for a HyFlex clinic – Choose a 30-minute slot and drop in to this 'HyFlex Clinic' where we will have a look at the technology available in teaching spaces to help you run HyFlex sessions, where students are simultaneously face-to-face and online. The clinic has no specific content and will instead try to address your challenges, issues, and ideas.