Although I take comfort that I am not alone in facing the challenge of getting students to complete class prework, it has always frustrated me. I have tried prework with and without marks, case studies/videos/readings, and I also have to admit, sometimes I have resorted to 'finger wagging', guilting, and even unadulterated pleading. All to no avail. Each session I would be hopeful but end up falling into the 'mini-lecture recap' at the beginning of the session simply to give students something to work on during class. While I felt this was eating into our interactive class time, my bigger issue was, what I call, the 'Prework-tutorial dynamic'; when students don't do prework, everyone feels 'bad'. That is, I was cranky because most students had not completed the prework, and I also felt I was doing a disservice to the small number of students who had. These students were bored and frustrated sitting through the recap while the students who hadn't completed prework simply remained silent and embarrassed. I reasoned that such a negative environment was not conducive to a positive learning experience and challenged myself to understand: how can I get my students to complete their prework? This is what I tried…
Step 1: Defined my "prework purpose"
The first thing I did was to try and understand the situation from the students' perspective. For several years I have run a HILL (How I Like to Learn) pre-semester survey to get to know my students before we meet. I analysed responses to the HILL question "What hinders your learning?". Some example student's responses included:
 "I always intend to do it [ prework]….I just run out of time!"
"Prework is so boring"
"Not really sure what the point of prework is….you tell me answers in the tutorial anyway!" [This one was a real eye opener]
The strongest theme that came through from the students was "My biggest barrier to learning is….me!…I'm a dreadful procrastinator." This got me reflecting on my own experiences as a student and, I must admit, I completely agreed with them! 
With this understanding, why do I even continue to set prework? I realised the sole reason was that I wanted to have something to drive discussion in tutorials. The purpose of my prework needed to change from 'downloading content' to 'driving discussion'.
Step 2: Communicated expectations and choice
In the past, I had allowed students to choose the level of prework they completed by offering prework levels that were 'essential', 'recommended' or 'optional'.  Although this wasn't particularly successful, I understood the importance of allowing students the autonomy to choose. I just wanted to make the choices more motivating. Through discussion with students, it struck me that many actively defined themselves as being a "high-achieving student", even if they weren't particularly performing well. What was going on here? Considering students' previous comments around their procrastination, I theorised that they were able to continue perpetuating this self-perception of being a high-achiever by rationalising 'I'm a high-achiever, however, I'm busy and I don't have time for prework'. I utilised this insight and decided to shift the focus of choice away from the choice of prework level and towards choice of student you would like to be. In this way, the choice became more personal. For example, "If you define yourself as a High Achieving Student, read pages 2-14, If you are aiming for a Pass, or Credit, read pages 2 and 3.". I would communicate this with no judgement.  This way, I would utilise students' own self-perception as motivation and 'no prework' was removed as an option.
Step 3: Provided focus, a clear 'why', and personalised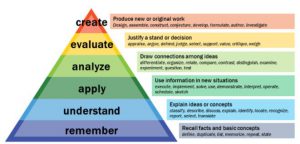 Moving to the literature, I considered Bloom's taxonomy to frame my understanding of what I was asking my students to do in prework and realised my prework approach was very unfocused. I had been setting prework that covered almost all of Bloom's levels. 
For example, 'Read this case study and answer these questions and come to class ready to discuss". I was overloading my students before they entered the room. I needed a more focused approach that highlighted 'why' we were doing prework. I reflected on Laurillard's (2013)  question "What does the student bring to the class?".  Well, they bring their life experiences. Even though they may not have the academic theory on board, when they enter my class, they all have life experiences and opinions; in my marketing classes, participants have all been consumers, in my academic development classes they have all been teachers and students.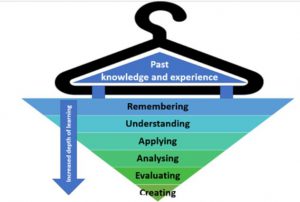 Getting them to reflect on these experiences is a powerful way for students to connect and help 'personalise' the material. I hypothesised that I could reimagine Blooms by inverting the taxonomy and adding 'Past knowledge and experience' as a 'coat hanger' to 'hook' the very first layers of Bloom's, remembering and understanding onto, and ease access at the commencement of their learning process.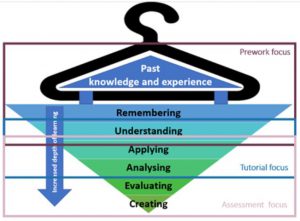 I decided to be more deliberate with the use of my unit components. My prework would focus on 'past knowledge and experience', 'remembering', and 'understanding', and I'd use other unit components to ease the students through the taxonomy.
I would simplify the prework, making it shorter, easier to complete alone, provide a clear rationale, and I would personalise it. Instead of asking them to do case study questions etc, I would ask them to read a short article or video etc. and answer 2 simple questions with a Twitter-length response (140-280 characters) in length.
For example:
      What do you know now that you didn't know prior to the prework?
      Did anything surprise you?
I called this their 'reflection collection' and in this way, I would make the prework more personal to them.
Step 4: Communicated the value of prework
As discussed above, I had tried to allocate marks to prework to increase value but this had failed.  I further pondered the procrastination element. If students could generate their end-of-semester assessment study notes each week instead of during the cram of STUVAC, this would be seen as valuable because it would help them with their final assessment preparation procrastination.  This is far more valuable than 1 mark for prework completion. I decided to communicate this in a non-judgemental way by highlighting that the 'reflection collection' was not marked, they were simply a 'supported study note generation activity' and reinforce it with 'micro-deadlines' by having the prework submitted and locked via SRES  one hour prior to the class each week. At the end of the semester, each student would receive their own prework notes delivered to them via an SRES student portal and email. I decided to communicate this to help them stay on track, help them to self-regulate, and minimise their workload in the end-of-sem exam period. There was no judgement if they didn't complete it. It was simply up to them.
Step 5: Implemented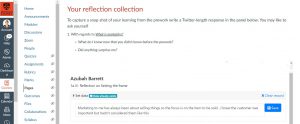 Although this was a considerable departure from my previous approaches, I reasoned that I had nothing to lose; the worst that could happen was that students didn't do their prework, so I implemented this approach in MKTG5001-Marketing Principles in semester 2, 2020.
Each week I set minimal prework, communicated with students that they could choose the level of prework they completed i.e. high-achieving etc. and collected their Twitter-length responses via an SRES portal embedded in a Canvas page. I kicked off each session, not with a discussion around 'answers', but with a discussion around their two reflection questions. i.e., What do you know now that you didn't know prior to the prework? Did anything surprise you?  In each tutorial, I reminded them that the reflection collection would become their study notes for the final assessment and that they could see these 'study notes' accumulating through their SRES student portal.
What happened? Impact and results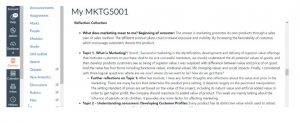 The captured SRES data showed that prework completion increased dramatically with students across the cohort of 692 students, completing on average,11.5 reflections out of a possible 13 over the semester.
In debriefing with the teaching team, they felt that this approach was a success, from their perspective, due to the following aspects;
Giving the students a 'choice' removed no-prework as an option
Significantly increased discussion in tutorials and the removal of the 'mini-lecture recap'
As there were no 'right or wrong' answers to the reflective questions, students were talking about their experiences therefore students felt safe to say 'I'm not sure what surprised me" etc., building a safe discussion ecosystem and a more positive learning environment
Access to students 'thoughts' prior to class via SRES teacher portal allowed a clearer understanding of student's thoughts before entering the class
Identification of 'at risk students' occurred within the first few weeks of semester, well before mid-sem or final assessments were submitted, allowing pastoral care and/or support to be offered in a timely manner
Communication of the value of completing the reflections was not based around the 'shame' of not completing them or the 'loss of marks', but around the clear removal of a hurdle students had identified i.e., procrastination to create study notes
With no marking, tutors felt they were able to invest their time in using this information to support learning more effectively, instead of assessing the information for student grades
Considering the student feedback, it appears they also embraced the approach 95% of students indicated recording weekly reflections supported their learning
 (MKTG5001 student survey, 208 responses from 692 student cohort), with comments such as;
"Yes, I think it [reflection collection] is so helpful. Thank you all!" (MKTG5001, focus group)
"The reflections made me comfortable to say, 'I don't know', and then investigate further within the tutes" (MKTG5001, USS)
Key takeaways for use in your teaching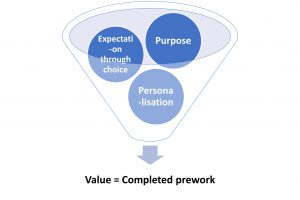 In summary, I embraced four aspects:
Purpose
What are you trying to achieve?
 Expectation through choice
Personalisation
 Let them talk about their experiences
Value
Beyond simply marks or feeling 'bad'
Final thoughts
Since this success, I have also seen how Universal Design of Learning (UDL) follows a similar approach and have further modified my prework methodology across my successive units. I continue to experiment and refine. It is an evolving process, and I am interested in hearing your methods and thoughts, to help support this evolution further.