Welcome news – online polling tool Mentimeter is now available for all University of Sydney Staff!
Engaging students, particularly in large classes, is one of the biggest challenges that we face as teachers. Ways to keep students active and engaged (and coming to class) have captivated the higher ed sector. To help us with this, the University of Sydney has now obtained an enterprise license for Mentimeter, providing all University staff with full access to one of our favourite classroom response tools.
Mentimeter (or Menti for short) is a tool that allows teachers to create interactive presentations, quizzes, polls, Q&As or surveys. Menti is a powerful (yet surprisingly straightforward) tool that you can use in many creative ways to help enhance students' learning experience by providing opportunities for interaction.
Menti is simple to use as it employs the familiar format of a slide deck. Each "presentation" is a new set of "slides", and each slide can either contain an interactive element (poll question, word cloud or hotspot) or content (text, image or video). When it comes to using Menti you have two options, you can build just the interactive elements in Menti to use alongside your Powerpoint slide deck, or you can leverage the content slides and build your entire presentation in Menti. Much like a Powerpoint slide deck, Menti offers a presenter view from which teachers can control slide advances, visibility of students' responses, or add slide notes.
For some inspiration, we asked colleagues to share some of their favourite examples of how they have used Menti in their classes.
How do University of Sydney educators use Menti?
Camilla Whittington from the School of Life and Environmental Sciences, uses Menti to create a safe space for topics that might be controversial:
It was great to poll opinions on controversial topics in our field, then have a class discussion about the issue, and then poll opinions again afterward.
Emily Remnant from the School of Life and Environmental Sciences, shares an example of giving students an opportunity to feed into the next lecture's topic: "In one lecture I ask the students to list their favourite eukaryote species in a word cloud, and I use the most popular organism as an example in my following lecture about chromosomes and karyotypes. I've done it 3 times now and each time we get a different species (usually it's linked to something quirky that I've covered in a previous lecture)"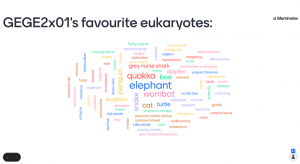 Andy Smidt from the Sydney School of Health Sciences helps students develop evaluative judgment for assessments, "[I] used menti to get students to mark [to] a rubric. So I give them an exemplar of the final assignment and take them through each section of the rubric and ask them to mark it (fail, pass, credit, distinction and HD)." Andy also uses the reaction functions of Menti to encourage students to engage with resources –
I often embed videos in menti [presentations] which allows students to click the ❤️ when they like something – this helps them focus I think and they feel connected to each other.
Menti allows Michiel Bliemer from the Institute of Transport and Logistics Studies a bit more physical freedom in the classroom: "Via the Mentimeter app on my phone, I can also control all my slides [of my Mentimeter presentation] remotely and see all the questions that come in while I walk around the classroom". This feature is also known as Mentimote and allows teachers to navigate slides and polls, start a counter or access presenter notes.
Carolyn MacCann from the School of Psychology used Menti during a second-year psychology class to show the distribution of responses from two groups of students who identified as being an "introvert" or an "extrovert". In this example, you could choose to interact with one of two Menti polls and respond to a few prompts. The two distribution diagrams showed that extroverts and introverts saw the same situation very differently, bringing the theory to life!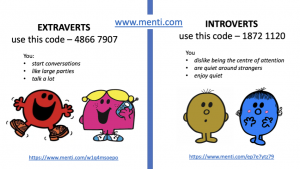 How can Menti help with engagement in my synchronous teaching?
Breaking up a long session into chunks to help students stay focused, "provides a change of pace which reignites engagement and is beneficial in bringing students together in a common task" (Margaret Van Heekeren from Media and Communications).
Check student understanding "when a few people select an incorrect answer, then I know what to do to help clear up a concept – it creates a terrific teaching opportunity" (Emily Remnant)
Generate engagement and create a connection "funny responses getting laughs, oohs and ahs and a chance for the lecturer to bounce off those ideas and engage directly with people's responses made it break [down] the wall between teacher and student spaces" (Tara Smith from the Faculty of Art and Social Sciences reflecting on large first-year units)
Create a safe space and a sense of community "It has proven to be a great ice-breaker, often resulting in laughs among the crowd as they watch the responses to the question populate the big screen of the great hall. It has helped to break down some of the formality in quite ceremonious/potentially a bit intimidating settings as well." (Sarah Morris from Student Life sharing observations from Welcome events)
Break down the barriers between online and face-to-face students, with both groups contributing to a single Menti, the two groups are not differentiated in how they can ask or respond to questions, while the teacher's focus can stay on the single artifact.
Collect feedback at the end of the session since Menti collects information anonymously, you can insert a few questions at the end of class to collect feedback. For example, one-minute-paper style questions like "what still remains unclear", or something more specific for the unit, below is an example from Anastasia Globa from the Sydney School of Architecture and Planning checking in with first-year students on their progress.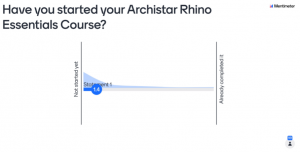 Provide time and space for students to develop ideas – with students being given time to write down ideas, Menti helps to avoid spotlighting anyone for a verbal answer. This approach increases the diversity of students we hear from while helping reduce the awkward silence that inevitably follows a question to the class
Menti provides an excellent tool for reflective activities. Colleagues in Student Life use it to "find out how they are feeling about starting university", and Emily Remnant uses it to find out why her students study genetics ('Why do you study genetics'), with students providing "answers [that] are always brilliantly diverse and cover the full breadth of the field".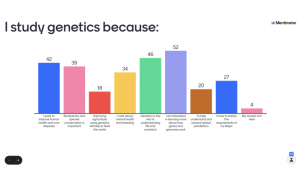 How can Menti help with engagement asynchronously?
With students increasingly watching recorded videos or lectures online, Menti can provide some opportunities for engagement. Much like in the synchronous lecture, polling questions can help students check their understanding. Students can pause the recording, answer the poll questions and then start the recording again to see how they have done.
Menti can be used to set pre-work before a class. A link or QR code to Menti quiz can be easily used to check in on students. The links can be uploaded to a Canvas page emailed directly to students. Menti as pre-work can be a neat way to pick up any misconceptions before a synchronous session.
For all asynchronous uses, it is important to set the Menti presentation to Audience pace and let your students work through your questions at their own pace.
How do I get started with Mentimeter?
To get started with your University of Sydney Mentimeter account, click this button:
Register for your Mentimeter account
Support
If you have any questions or would like some support, please reach out to the Educational Innovation team for a 1:1 consultation or attend a Menti workshop on offer.
If you have any other exciting examples of how you have used Menti, we are keen to hear from you: please share these with us and we may feature them in another Teaching@Sydney article.