In a time where being online all the time is the norm, it's easy to feel overwhelmed in both our professional and personal lives. Throughout each day, between our online professional commitments, many are drawn to news and public affairs updates across several digital platforms. As such, there's an added layer of continual information processing, with many of us finding ourselves locked into a cyclical pattern between wanting to keep your eyes peeled so you don't miss anything versus prioritising personal (and/or collective) mental and emotional health.
In this extraordinary environment, to then also have to accept the added professional challenge: to radically adapt teaching (delivery, assessment, examination, etc.) practices to online and maintain active student engagement is understandably daunting. However, it is in same context that many teaching colleagues and teams are enjoying a sense of 'permission' to push creative boundaries, drawing confidence and inspiration from sharing practices: design, techniques, tools, to improve the student experience of learning.
Sharing and reflecting on teaching practice often takes place in highly localised and introspective settings, and while this is positive, the challenge is always to share at a larger scale. Responding to this challenge, schools in the Faculty of Arts and Social Sciences are seeking to support more networked approaches to sharing practice, including school teaching days. However, also challenged with online delivery, the following example demonstrates what can be achieved with focussed planning and a commitment to collaboration.
Running a school teaching day
The School of Languages and Culture (SLC) held their teaching day on Friday 5 June 2020, a two-and-a-half-hour session that at its peak engaged 67 school colleagues in a series of 10 minute presentations and breakout rooms. The event lead, Dr Carolyn Stott, Associate Dean (Student Life) and SLC Pedagogy Group Chair, had the following reflections to share with others considering new approaches to sharing teaching practice.
"It did take a bit of time to organise. We had the date set from the beginning of the semester – it will often run in Week 14 on a Friday, when colleagues are still here in Sydney (which wasn't a challenge this year), and marking isn't too heavy. We sent "save the date" reminders, and follow-up with a calendar invitation. In the final calendar invitation, the format of the day was clearly laid out – timestamped and all. SLC colleagues were encouraged to express their interest in presenting an innovation or good-practice remote-teaching model, or volunteer someone they thought would be a good fit for the event. The SLC Pedagogy group then determined the presentation themes for the event.
"The event was structured into two parts: Six selected academic presenters had five minutes to talk about their innovative online practice, and five minutes for a Q&A session. After a short tea-break, participants (who were pre-allocated to a Zoom breakout room) reconvened for the second session, where they discussed presentation themes with the main discussion points recorded for dissemination.
Encouraging discussion and sharing practice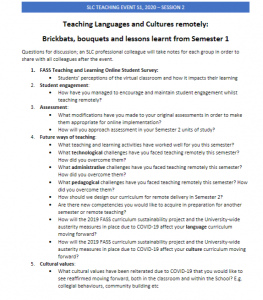 "Each group [in a breakout room] had a professional staff member and a student representative, and this time round, we wanted to know people's thoughts and ideas on a set of common topics: assessment, future ways of teaching, cultural values, etc. Ultimately, we didn't want to overwhelm participants, instead, we wanted to create a space to openly talk about and share what worked and what didn't, ensuring there was a balance between participating and listening.
"We chose to set up a Canvas site for the event, which we determined would be the best platform to share information among colleagues and student representative members. We also considered Yammer as an alternative platform, but the concern we had was that is information is lost once you leave the page, so the benefit of Canvas was that participants remained active in the event's discussion activities and modules. Canvas was also preferred in terms of accessibility, as we have departments and groups of colleagues that don't teach languages – Asian Studies, European Studies, International and Comparative Literary Studies – we needed to ensure that resources are also available to them.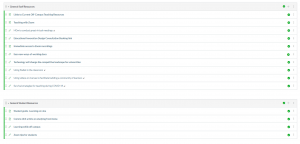 "The event's design was also cognisant of casual tutors and the very important role they play the education conversation. Casual colleagues put in so much work and have innovative ideas. It wasn't all together surprising that the only presenter who stuck to their time limit during the presentations was a PhD student! It was also to recognise all of their hard work thought-out the event, which is highly valued by our school.
What did people think?
Through the two sessions, the chat box was brimming with positive, engaged and supportive comments and prompts for further discussion:
'Thank you for your fantastic presentation – what an effort to activate the discussions!'
'I hadn't thought to embed Padlet and use it for the discussions instead – brilliant!'
'Good to know about your positive experience in the lecture using Menti – I agree that adopting flipped learning structure are effective in increasing students' engagement in many ways!'
'It's moving to see how many colleagues are working so hard in spite of the challenges, our institution is very lucky to have so many passionate educators!'
'I would like to ask how you finished each poll…Unlike Kahoot Polling, Zoom does not really indicate the time limit, and when I used pollin in semester 1, I had to "rush my students to finish answering" each time.  Could you please share with us how you managed time?'
'A comment about the use of Socrative compared to quizzes in Canvas: the students love using their phone. Socrative is more engaging visually for students than quizzes in Canvas.'
Carolyn reflected, "I feel there is a bit of ambiguity anonymous tasks: on the one hand we would like to encourage – especially international students – to ask questions and do not stress anybody in case they are afraid a question might be "wrong". Still it would also be good students learned to actually speak up and not hide beside the "screen" or be incognito.
"With more than 70 registrations for the event and 67 participants engaged over Zoom, it was a better response than our usual face-to-face events. Face-to-face numbers usually hover around 60 registrations, but we always have fewer than that in the room. Perhaps we experienced larger number online because people are missing the contact, or its easier to participate – either way, we were thrilled with the turnout and seeing everyone appreciating the company of their peers, and collaborating to solve problems they were all experiencing – albeit in different settings and circumstances.
"On a final note, I'll add for anyone considering replicating this model for their school, make sure you have someone to help monitor time, and take down minutes and notes (thank you so much, Dom!). Further, if there is one lesson learned: it's to record the session! Moving forward, we will continue to evolve and adapt to this format to support our school's needs.