"Preparation for Learning in the Hospital Environment" is an interactive, online resource designed to prepare students from both health and non-health disciplines for workplace readiness within a hospital environment. The project, which was funded by a 2019 Strategy Education Grant, was led by academics in Sydney Nursing School with input from colleagues from across the Faculty of Medicine and Health. Hosted in Canvas, the interactive resource is now available for use by academics across the University and can be embedded into an existing unit of study or as a stand-alone learning tool. The interactive resource comprises four self-directed modules.
Self-directed modules for workplace readiness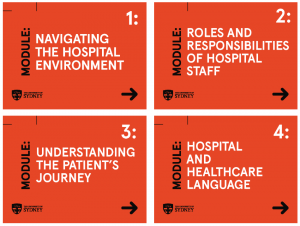 Module one, "Navigating the Hospital Environment", provides learners with a general overview of the function of hospitals in relation to the healthcare system. The module also describes the various services and departments that are typically found in a large modern hospital including those areas rarely seen by the public.
Module two, "Roles and Responsibilities of Hospital Staff", introduces learners to the categories of staff who work in hospitals including allied health, medical, nursing and non-health staff. The responsibilities of learners when they enter a hospital are also addressed, in particular, the role of infection control.
The third module, "Understanding the Patient's Journey", identifies the four main reasons people are admitted to hospital, and describes some of the key events and activities that a patient may experience during their hospital journey. Also covered in this module is the importance of patient privacy, confidentiality, risk management and safety.
Module four, "Hospital and healthcare language", explains the importance of having a shared language when working in a hospital and introduces learners to a basic glossary of terms commonly used in the hospital setting.
Engaging students in online modules
We designed features within each module such as multimedia clips, authentic scenarios, and activities and readings to engage and stimulate student learning.
For example, engaging bespoke video clips depicting typical patient scenarios or actual hospital settings have been designed to stimulate student interest while introducing them to key features of the hospital environment and patient journey.
Interviews with a range of healthcare professionals are designed to provide an authentic insight into the diversity of roles of hospital staff, and provide the opportunity to listen to 'real-life' people describe their roles and working lives within the busy hospital environment. Interactive formative activities are embedded throughout each of the modules, allowing learners to check their knowledge and understanding as they progress through the learning resources.
If you are interested in getting access to this resource please contact Amelia Di Paulo.