In 2020, the year like no other, a team of staff from Educational Innovation and students from across the university came together in partnership to develop Get Prepared, an online educational resource to empower and support students and their families in transition to university.
Every big journey starts with a single step. This site is your first step to get prepared for your journey to, through and beyond university.
---
What is 'Get Prepared'?
Get Prepared is an open-access Canvas site that supports and empowers students as they journey to, through, and beyond university. The site was developed in partnership with a team of undergraduate student co-designers coming from a range of equity backgrounds and faculties across the University.
Designed by students, for students, the Get Prepared site aims to improve the transition experience by encouraging students to build upon their strengths and values and take ownership over their own learning. Get Prepared also teases out university's 'hidden curriculum' (what students are expected to know intuitively about university study), explaining how to get around campus, how to prepare for academic study, and where to find support.
Get Prepared also recognises the important role that parents, family, and other key supporters play in supporting the transition experience. One key feature of the site is a family module containing information, activities, and videos to help parents, families, and key caregivers support 'their student' as they navigate the University. By 'demystifying university,' the site encourages parents and families in ways to best support students on their university journeys.
Thanks to the input from the Get Prepared undergraduate student co-designers, students and families will engage with authentic, peer-reviewed guides to navigate the challenges of university.
By amplifying the voices of equity students as they recount their experiences coming to university, Get Prepared encourages an inclusive and supportive learning environment. Rather than rely on a 'deficit' model that asks that students change and adapt as they enter tertiary education, Get Prepared asks students to draw on their prior experiences: student users will also have a chance to tell their own stories in activities designed to encourage awareness of individual values, strengths, and experiences.

Who is the site for?
Get Prepared is targeted at three key groups:
Future students thinking about coming to the University of Sydney,
Current students just starting at the University of Sydney, and
Parents/family/caregivers of future and/or current students.
While starting the first semester or first year at university is a clear point at which students face change, 'transition' also includes changes in programs or majors within the university, adjustments in learning environments (such as moving from vocational to tertiary education), overseas travel from overseas institutions, and so on.
As an 'access anytime, anywhere' Canvas site, 'Get Prepared' is designed to connect to students at multiple stages of their time at University. Its open nature also allows students to share the site with their families.
How do I get access to the site?
Get Prepared is open to the public and is accessible by anyone:
Click here to open Get Prepared
Or copy and paste this link into your browser: http://sydney.edu.au/canvas/get-prepared
What will I find on the site?
Get Prepared is divided up into three modules (two for students, one for parents/families), each containing a range of information, resources, interactive activities, and key insights/tips from the student co-designers. Each page includes a video featuring a student co-designer introducing key messages and sharing some personal stories or tips from their own experiences at University. For example, we've included a screenshot from a video featuring 2nd year Arts/Law student Matilda Langford below.

We've put together a breakdown of the three Get Prepared modules and the key pages/topics covered below:
Module 1. I can do this! 
Making the journey to University
What I wish I knew: First-year retrospectives by current students and alumni
Find your 'why' – what is your professional purpose?
Module 2. How to thrive at the University of Sydney
How to get around the University campus
Navigating your way through your degree
Finding your way through the University's online environments
Power up your learning

Speaking up in class
Tackling procrastination
How to succeed in group work
How to study effectively

Connect with your peers and teachers

How and when to email your teacher for assistance
Finding opportunities to make friends at university

Find help when you need it

Mental health and wellness
How to access the University's support services
Module 3. Parents and Families: How can I help?
A brief history of the University of Sydney
A guide to the University, its language, and systems
How can I help: A family guide to helping students at University.
Supporting students on their professional journey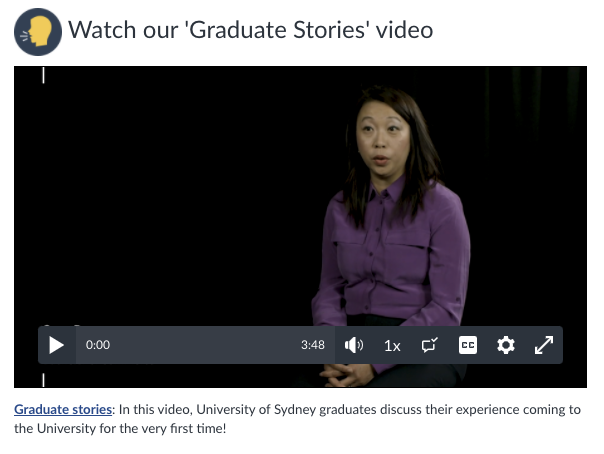 How can I use Get Prepared to support students at the University of Sydney (and beyond)?
We encourage all teachers (especially those who work with incoming students) and anyone supporting teaching to circulate the Get Prepared link amongst your student cohorts in the first few weeks of the semester to maximise their effective transition into University.
We would be grateful if you could support the Get Prepared site by circulating it amongst your teams and networks inside and outside the university, especially if they are working with:
students thinking about coming to University,
students transitioning to University,
first-year students cohorts,
first-year unit coordinators, or
students from equity cohorts.
You can find further information on the Intranet and by looking through Get Prepared itself!
If you have any questions about using this resource, please contact Sam ([email protected]), Mick ([email protected]), or Dash ([email protected]).
Get Prepared was funded in part by the Australian Government Higher Education Participation and Partnerships Program (HEPPP) to support the participation and attainment of students from a range of equity backgrounds.