Most units in semester 1 will be taught through a mixture of in-person and remote options, enabling great flexibility in teaching modes to meet the challenges of engaging students on and off-campus. This article describes some changes and updates to University systems to improve our ability to communicate with all students effectively, whatever their location. Although some of these changes will also be relevant to units designed to run fully online and to those requiring on-campus participation, they mostly affect the majority of units which are being offered with two 'locations': (i) a mixture of on-campus and remote for those able to travel to campus and (ii) remote only for those unable to. For these units, students enrol in either the 'on campus' version (labelled as 'CC' for Camperdown/Darlington Campus, 'WC' for Westmead, etc) or the 'remote' version (labelled as 'RE'). The versions are referred to as 'availabilities'.
Two locations – one Canvas site
In units running with both an on-campus and a remote option, the learning outcomes and assessments are the same for all students. The learning activities will differ, to an extent that depends on the unit. Some classes, like tutorials, may run separately for the on-campus and remote students, some classes may use HyFlex delivery to run at the same time for the two cohorts, and some classes, such as lectures, will be delivered remotely for all students. The teaching resources, activities, and assessments are housed in a single Canvas site, covering both cohorts. This ensures all students will have access to everything they need without coordinators needing to maintain two sites. Luckily, Canvas provides great tools for teachers to communicate to the on-campus and remote student 'sections' separately. As described below, it is now very, very easy to create Canvas sections containing timetable information, including a section with the on-campus students and another section with the remote students.
Using Canvas sections to communicate to students
Canvas sections are often used for streamlining student administration, such as assigning marking. However, they can also be used to make sure messages and communications only go to the relevant students. These may be different tutorial or laboratory classes or, in 2021, those students who have enrolled in the 'on campus' version and those enrolled in the 'remote' version of the unit. Using the 'on campus' (commonly CC) and 'remote' (RE) sections, you can for example:
Post an announcement to one or both cohorts.
Create a discussion board thread for one cohort.
View and grade assignments according to the students' location.
Creating Canvas sections
SEAMS will automatically create a section for students enrolled in the RE option and another for on-campus students. After a Canvas site is activated, these sections will be automatically populated with the associated student cohorts.
Additional cohort-based sections can be enabled if required. Any class timetabled in Sydney Timetable, such as a tutorial, laboratory session, or lecture stream can be used to create a section in Canvas using SEAMS. In previous years, this required downloading class lists; with the introduction of the new timetabling system and updates to SEAMS, this can now be automatic.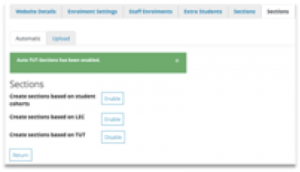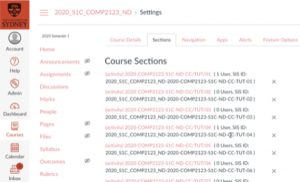 When teaching assistants are added to the Canvas site through SEAMS, they can be allocated into one or more of these sections.
Unit outlines
Unit outlines help students plan and organise their studies and assessments. So that students can prepare and make the correct choices before teaching begins, unit outlines for all levels should be published 2 weeks before the teaching session begins. For semester 1, unit outlines need to be published by 17th February. A Canvas site cannot be released to students until its unit outlines have been published.
Two locations – two unit outlines – one publication
Sydney Curriculum will automatically produce a unit outline for both the on-campus and remote version of the unit. However, because the learning outcomes and assessments of the two versions are the same, there is no need to change or duplicate any of this information. The only information that may be different is the details of the teaching staff for the on-campus and remote teaching activities.
SEAMS has been updated so the outlines for both the on-campus and remote availabilities can be published at the same time.

Sydney Timetable
Timetabling is now handled through the new Sydney Timetable system. As noted above, class lists can now be connected directly to Canvas through to make sections for each timetabled class. Student information and class lists can also be downloaded straight from Sydney Timetable.
Information for students is available on the Student website, including guidance, access to webinars and training videos.

Get prepared
University of Sydney educators can access free 30 minute consultations with an educational designer – book an online consult here at a time that suits you.
If you need technical support with an educational technology like Echo360, SEAMS, Akari, Zoom, PebblePad, etc, skip the queue by completing our online form.
Attend a workshop or professional learning session to learn more about teaching effectively for learning in all locations: