Information Overload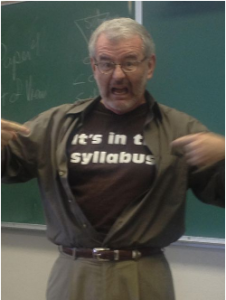 Several years ago, a picture of an American professor angrily pointing to a t-shirt underneath his unbuttoned dress shirt went viral. The t-shirt read: "It's in the syllabus". More recently during Covid, a group of professors on Academic Twitter united to raise money for a cameo clip by Snoop Dogg, encouraging students: "You gotta do it, you gotta read it." While inventive and hilarious, these moves demonstrate a commonly encountered problem in contemporary higher education: students may not be accessing basic course information despite the careful curation of it from instructors/unit coordinators. Moreover, at many institutions worldwide, syllabi and unit outlines have become cumbersome documents that reflect contractual and institutional policies, and in the case of our field of study – education – include a whole host of professional standards and accreditation regulations (see, for example, more about our unit and others in Australia).
Perhaps it's not surprising that students are therefore loathe to read long, dry syllabi, opting instead to email their instructors or ask questions in classes and tutorials.
Neither outcome is good, however. An abundance of emails is stressful and detrimental to our work as educators; a lack of awareness of course expectations is detrimental to students' learning and success in  courses.
To address these and related concerns, in 2018 we determined that our large unit – EDUF 2007: Social Perspectives on Education – would benefit from some additional infrastructure to fill this need. In short,
we created a tailored FAQ document to supplement the syllabi, support students, and ideally, save us time answering questions.
In addition, we were also conscious of how we could invite students to think about social perspectives within this unit; thus, in addition to basic details about the unit (described below), we also included questions that outlined our considerations for the learning community: how we planned to provide feedback on unit assessment, for example, or how to care for students who might face disasters in learning periods. We sought to carry this discursive work through the course content and to mirror our focus on inclusion, diversity, and equity across all aspects of the course.
Below we describe three generations of our FAQ usage. Now in their fifth year, the FAQs feel like a crucial part of our unit architecture.
Overall, students are now more literate about matters that are relevant for their studies, and the volume of emails and questions about these things has dramatically reduced.
In addition, when questions do come in, we can easily direct them to the specific answers they need.
FAQs 1.0: The Original
In 2018, both of us had been teaching in this and related units within the Sydney School of Education and Social Work (SSESW) for several years. We therefore had some insights – perhaps even pedagogical content knowledge (Shulman, 1986) – related to the types of questions and issues that students experience in the course.
With this as our starting point, the original FAQ page included 19 questions we thought would both enhance and clarify the student experience, but also save us time. Questions included basic info such as which version of the course text to use; where to find readings; what policies exist for attendance, late assessments, etc. To encourage students to read the FAQs – and to help maintain our own sanity as educators and faculty members – we also included a few 'jokes' throughout.
Reading back over this now allowed us to reflect on how much had changed over these years – but at the time, these questions came up again and again for our learners. Here are some examples:
#6. If I miss a tutorial, can I make it up by attending a tutorial on/at a different day/time?
No. Due to the sensitive nature of some of the content in the course as well as the dialogic pedagogical approach, students are not permitted to swap or attend 'make-up' tutorials. Also, see Question 5 about the procedure for missing a tutorial.
#15. Matthew and Vic seem so hip and cool. Can I date one of them?
Yes, they are both extremely awesome. Trust us. However, you cannot date them. Or one of your tutors. Perhaps try speed dating or join the local knitting circle, or whatever it is that the kids are doing these days.
#16. This paper/topic is so interesting! I've gone over the word count. What will happen?
Assessments within +/- 10% of the allotted word count will be marked without penalty. Anything over or under 10% variance will incur penalties in accordance with the Little Blue Book [i.e., policy guidelines at the time].
In short, we sought to capture a wide range of questions and concerns related to the unit that would both enhance students' success and understanding in the unit but also prevent future issues for us. For example, whilst Question 15 is on one hand a crazy joke, on the other hand we were keenly aware that the many of the tutors we employed were not much older than our students, who might perceive or approach them as date-able peers rather than tutors and higher education professionals.
FAQs 2.0: The Editable
As the unit content and the questions included in the FAQs evolved over time, so too has our approach to using them in our units. From 2018 to 2019 we created the FAQs before the start of the semester and they remained intact. With pedagogical insights from our colleague and unit co-coordinator, Dr Sam McMahon, from 2020 onward we embedded the FAQs in Canvas as editable pages, rather than finalised PDF documents uploaded to Canvas. This enabled us to edit them throughout the semester, further clarifying a question.
In addition, occasionally a student would email us to ask a question that we had not previously encountered. Our editable FAQ (2.0) Canvas page allowed us to simply add it to the list. Lastly, we could easily embed links and screenshots as desired to further reduce confusion. All of these affordances – and the FAQs in general – allowed us to easily point students to course insights and answers without the need to laboriously type out responses to multiple students.
Moreover, the public nature of the FAQs meant that all students could access the same information. This equitable access is particularly important when the information shared concerns assessments; we would not want some students to receive insights about assessments that would advantage them over other students who did not think to ask or email.
FAQs 3.0: The Expandable
Finally, and in a world of increasing information overload, the next step for our FAQs will involve using HTML code to convert the questions into an expandable list, a tip we picked up from our SSESW Educational Designer Sarah Craske. This change will make it easier for students to search through the questions, which have grown in length over time. Students will be able to expand any specific questions to see the answers, while easily reviewing all of the questions in a single list. We have yet to implement this innovation, but plans are in the process for its trial in 2022. Stay tuned!
**
Matthew A. M. Thomas is a Senior Lecturer at the University of Sydney, where he teaches and researches pedagogy, policy, and teacher and higher education. He is the co-editor of Examining Teach For All (2021) and the Bloomsbury Handbook of Theory in Comparative and International Education (2021). He tweets at @MThomasEdDev.
Victoria Rawlings is a Lecturer and ARC DECRA Fellow in the Sydney School of Education and Social Work at the University of Sydney. She is the co-editor of Community-Led Research: Walking New Pathways Together (2021) and author of Gender Regulation, Violence and Social Hierarchies in School (2017). She tweets at @Vic_Rawlings.