In 2020, the transition unit pilot in the Faculty of Arts and Social Sciences asked teachers and unit coordinators to enact a new vision for Sydney students' first steps at the university. At the heart of this vision was to reimagine the way that students and staff define their experience of learning and of being with each other. The goal was for each student to find their place in the University community.
It was an ambitious goal. A vital step towards it was that students could talk about their journey to the University. Where do they come from? What places along that journey have shaped their identity? Which places made them the unique individuals that come together as a super-diverse group at The University of Sydney? In an effort to model this for the students, we developed a transition activity "I speak of place, I speak of me" in the first week of Language Hybrids and Cultural Fusions, the first-year core unit in the new BA Adv Studies (Languages, SLC).
This article is a reflection on teaching practice by Benjamin Nickl (ICLS) and Tracey Cameron (INDG)
"I speak of place, I speak of me"
Our students had these questions for Tracey, who teaches Gamilaraay and history in Indigenous Studies: What if someone came to you and asked you how to do an acknowledgement of Country? For bigger events, would the acknowledgement need to change? Where are your acknowledged elders? At the university, in your community?
Here are her responses.
Often people don't know where to start, or if it's appropriate to make an acknowledgement, they fear making a mistake, they believe it's not 'their business', they don't know who to ask for guidance. Identifying and discussing this process through the I speak of place, I speak of me activity is about making the effort to point out the gap in the connection between Country, history, and Indigenous people as part of our students' transition into university life and culture.
Generally, from a non-Indigenous person's perspective, offering an acknowledgment of Country signals respect of First Nations people, a way of thinking about how you fit into space and Country, and how to look to the past and the present.
Discussing this as part of a transition activity allows students to think about whose Country they are on, what Place they share, what authority the local tradition is bringing to the table and how this can be understood to make educational spaces more inclusive and equitable.
The activity opens a discussion that acknowledges that each space, place, land, and country may have a complex and complicated history; Tracey explains:
this is not about performing a simple thing, but to realise that there are many different threads that are woven into Australian history and also the present with each new arrival coming to Australia and to our university.
Further, this activity can offer a pathway to explore other, forgotten connections between Australian places and identity, like Afghan cameleers and South Sea islanders' labour trade, or the Northern Territory buffalo shooters. There are many examples, many hidden histories of a lot of places. In the classroom, Tracey shares her own background speaking of her places, country, and how they shaped her family history. Tracey also referred to Gamilaraay language and how the places she lived in and experienced influenced her language identity and cultural identity.
"Tell the Truth about Your Place and Identity"
In a colonial Australian context, the impact of being displaced and dispossessed, and being forced to move to different places led to the damage of language and culture. Tracey pointed out to students that Australia needed to confront how this took away places and identity from Indigenous nations' perspectives.
Further, the knowledge derived from 'places' may come from many different people and sources, and all are legitimate but may not always be seen as equal or equally valid, so students should keep an open mind about their own cultural background and knowledge they bring and how that enriches the subject area and the university's learning community.
You cannot go wrong if you tell the truth about your place and identity, and this is important
Another objective of the activity is to tell the truth about the places that made you and discover how collective experiences can be applied to and shape subjects and knowledge traditions across the university.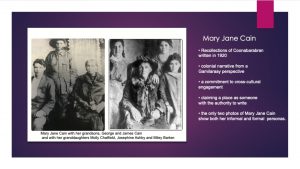 Tracey explains: "You cannot go wrong if you tell the truth about your place and identity, and this is important. Because we are not leaving this place, particularly now with COVID. Everyone does feel a connection to the place they live in and in Australia, we all have a connection to where we live. We must acknowledge the specific history and significance of the places we live in and the history of the First Nations that live here. And what Country means to them, to us. The Western view may dilute the unique role that cannot be reproduced or imitated by anyone but the traditional owners of each nation here. And people all love that place they live in and they should all care for it by acknowledging their places and their truths and not feel one is more important than the other".
Through the design of this activity, Tracey reinforces that we have a responsibility to care for Country and there is a duty to care for the history and the present of our shared place that we live and work and study in. We have a shared responsibility to each other to teach us about our histories to work for a good future. This really resonated with young students who feel a sense of responsibility and felt that activities like this one can open new dialogues. It should motivate all teachers to find meaning and truth in their classrooms, places, and journeys.
How did we run the activities?
Tracey compared the practice of Acknowledgement of Country (she delivered it to the students in Gamilaraay, her language) and Welcome to Country, and talked to the students about the different practices. Tracey explained to students about who has the authority to do what and why. She always grounded her answers on Indigenous knowledge and respect for Country. Tracey then elaborated on this by presenting more nuances on Indigenous knowledge of Country and different places connected to different nations and Australian languages – she used the AIATSIS Map of Indigenous Australia. The Gambay (First Nations Australia) map on the ABC website is also great.
After modelling "I speak of place, I speak of me" this way for the students, by Tracey talking about her own place in Country and her family and Gamilaraay language activism, Ben then took this back to the students and his own place(s). What were their places that they could speak on with as much truth and passion and authority as Tracey did? What were their connections to Country, in Australia or elsewhere? And what does this mean for non-Indigenous people here, for Sydney students and staff, to be on Indigenous land?
Two hours was not enough to listen to everyone talk about their places and the stories that are attached to them. That are attached to us.
This is where the inclusion of everyone's background and our many voices came together: in one place that is the University of Sydney campus. Both teachers and students, we talked about where we grew up and where our parents grew up. What languages lived in those places and what some students' parents left behind thousands of miles away when migrating to Australia. What does it feel like to live between many countries and not just belong to one? Sometimes, the best listening is the best learning.
…what does all this mean for the University of Sydney—what kind of place is it that holds so many different voices?
Some students from rural Australia said they missed the quiet of their places every now and then. Some said the city has too much light at night.
To conclude the activity, we asked students in an open forum what all of this means for the University of Sydney—what kind of place is it that holds so many different voices? How do we deal with the fact that the University is sitting on Indigenous land that has its own voice and history? Will what the students learn in their units prepare them to answer these questions or have their places prepared them for that? Who could they turn to for more information on Indigenous Culture and Country?
Many voices in one place: a bonding experience
We should stress that I speak of place, I speak of me was intended for first year students and their transition experience – to tell and share about a unique place that is theirs and that is them at the same time. It was encouraging to see that some second- and third-year students in the unit found it equally rewarding. Even though they were further along their learning journey, they are still as close to the places they left behind to come to Sydney as the first-year cohort.