There is much to be said for conceptualising the experience of transitioning to university as a stage in a 'journey' that all students go through, taking into account the path that led them to higher education. Particularly when it comes to the transition of students from underrepresented cohorts (such as students from low-socioeconomic status backgrounds and the first in their family to attend university), the biographical details of one's broader 'journey' can be particularly telling. It is only through such details that we can come to understand the challenges that can be faced if you are seen to lack the 'cultural capital' required to succeed at university. In terms of transition, this is what education scholars refer to as a way to rectify students 'in deficit', and it is this positioning that we need to avoid if we wish to improve the standard of belonging and educational success of underrepresented students. The University of Sydney's Educational Innovation (EI) team is working on several projects in this area and, in this article, one of EIs educational designers Mick Warren shares his experience of coming to university as a first-in-family* (FiF) student.  
My university journey
To tell the story of my university journey, I need to start with my parents. Taken out of school at 15 to work for the Bank of New South Wales, my mum took her chance to study part-time at university for the first time in the 1970s. Working full-time as a typist for the Macquarie Dictionary, her first year of study counted towards high school matriculation. The subsequent two years of study helped her accumulate the equivalent of one full semester, before she was told that her progress was too slow to remain enrolled. When it came to what being at university was like, I could at least rely upon many of my mum's mature-aged student anecdotes and stories of Professor Delbridge at Macquarie Dictionary. My dad, on the other hand, having completed no formal-schooling of any kind (primary, secondary or tertiary), still jokes of graduating from Laggan University. Laggan is the closest locality to the small rural property where he grew up, and has a great pub but no university. I always took this as an expression of his 'school of life' way of thinking – bush upbringing, graduating to car-mechanic. At once it is undoubtedly a not-so-subtle dig at the institutions which I have in turn come to know so well as the first person in my immediate family to graduate from university.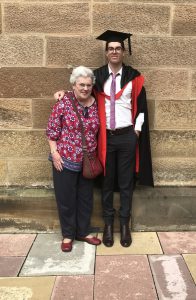 Spanning four different universities and three degrees (including a PhD in history from USYD), my experience of higher education could have been very different. Relying on a middling HSC result from a rural high school, which just got me into my third or fourth university preference, I spent just one semester at an institution which offered studies barely piquing my interest. Disinterested and feeling like I had quickly missed the boat by not making any friends within the first few weeks (I brought no school friends with me from high school), it was a matter of time before I dropped-out. I then dedicated my time entirely to the service of machinery for tradesmen and 'weekend warriors' at Kennard's Hire. When I did unenroll, I was amazed by the fact that I received phone calls from some of my lecturers to ask why and to offer support for me to continue. One of whom had also gone out of their way before a final exam to personally wish me luck as I sat nervously before it commenced. I remember feeling shocked and embarrassed, having barely said a word all semester in any of my classes. For that semester I received two passes, a credit and withdrew early from one unit.
The level of outreach that these teachers engaged in has always stuck with me, and went a long way to help me feel that I might belong at university.
I can't entirely attribute my eventual return to university to these acts of support and encouragement. The lure of biology, history and the hope of a more rewarding career played a big role in my successive UAC applications. But the level of outreach that these teachers engaged in has always stuck with me, and went a long way to help me feel that I might belong at university. It came at the end of an unsettling first experience of higher education, and only in hindsight could I tell how much my teachers wanted me to succeed.
These kinds of outreach can make or break the aspirations of students who are considered 'at risk' of discontinuing their studies. Often intersecting with a number of 'at risk' categories (low-SES, Aboriginal or Torres Strait Islander and regional/remote status), first-in-family students are particularly likely to consider leaving university. The 2011 Australasian Survey of Student Engagement indicated that 26% of FiF students in first-year considered dropping out, increasing to 34% in subsequent years (Coates and Ransom, 2011). At the University of Sydney, results of the 2018 and 2019 Student Experience Survey similarly highlight a discrepancy between the level of satisfaction of low-SES students and high-SES students in terms of preparedness for study. This makes a clear case for embedded curricular and co-curricular support for low-ses and other underrepresented student cohorts.  
From 'open-door' to embedded support
Opening the door of higher education to FiF students is an important step on the path to widening participation, building momentum in Australia since the 2008 Bradley Review. But as the high rates of potential attrition suggest, the rising enrolments of FiF students at Australian Universities is by no means the end of the widening participation challenge. As education scholar Sarah O'Shea puts it, "access without effective support is not opportunity" (O'Shea et.al, 2017).  
As my own experience suggests, institutional support for FiF students can take the form of spontaneous and out-of-the-way expressions of individual kindness and encouragement. If you are able to determine that any of your students are struggling in their studies, this support can be offered remotely through platforms which allow targeted and individualised support such as the Student Relationship and Engagement System (SRES). There are also other ways of supporting FiF and other underrepresented students in their university journey and help them to feel like they belong in a higher education environment, a key goal of the University's Student Experience Strategy. Encouraging interaction between students and teaching staff, values affirmation exercises, and asking students to reflect on their professional purpose are all practical steps that you can take towards helping students develop a sense of belonging. How to include these steps as part of your teaching practice can be explored more via the Modular Professional Learning Framework (MPLF) and the Teaching Resources Hub (TRH). EI is also in the process of developing a range of other resources to support this aspect of equity student transition, including a suite of Canvas 'Get Prepared' modules.
All of these initiatives go to recognising that for many students of underrepresented cohorts, metaphors like being a 'fish out of water' or university being a 'can of worms' are apt to describe their university 'journey'. By encouraging FiF students in particular to draw on the inherent strengths that they bring to their studies and how they align with their own values, we can help more of them attain a sense of belonging and strive for success during their time at university. 
* In this post, we are using the O'Shea (2020) definition of  first-in-family, whereby "first in the family means that no one, including parents, siblings, partners and children, have previously attained a university qualification". FiF or "first generation" can also more strictly refer to students who have no direct or extended family history of attending university.