vSydney Study Connect launches with over 1000 students in first week
vSydney Study Connect is an online program connecting students from the same faculties and University schools into study groups supported by our Peer Support Advisors (PSAs). The new program provides students who are studying remotely with opportunities to access peer study support and make social connections, as well as pathways to resources and further engagement opportunities across the University. It is part of a suite of new initiatives designed for students studying online.
By signing up to the program, students gain access to a specially designed multi-function app in which they can participate in events, join chat groups, and study together online. Peer Support Advisors act as "group leaders" and will be facilitating weekly study and catch-up sessions, sharing of helpful resources, facilitating discussions, and communicating a range of events and activities available to attend virtually.
The innovative program is part of a suite of new initiatives designed to support students who are studying online, helping them succeed in their academic studies, and connect with peers from the University community. Pro Vice-Chancellor (Student Life) Professor Susanna Scarparo, says:
The peer study groups that are formed within the program will give students the opportunity to motivate and inspire each other, form friendships, build connections, and access further resources; and it is envisaged they will develop to operate as self-driven communities throughout their time here at the University.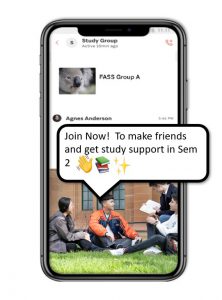 Launch week of the program saw excellent student engagement, with more than 1000 students registering from across all faculties or University schools. These students have been allocated into the first study groups according to their degree level (including HDR students as a standalone cohort), and within their faculty or school.
The program is supported by the CET Connect App, as the primary interface for group chat and resource sharing. Groups will commence from Week 1, Semester 2 and will continue throughout the semester.
How can I get my students involved?