The University of Sydney Business School has just wrapped up a 9-week crowdsourcing challenge called Future Makers. We invited all students in the School to join an extra-curricular online community, and asked what they think are the critical global, local and personal challenges of the future, and how their education can best equip them to respond to these challenges.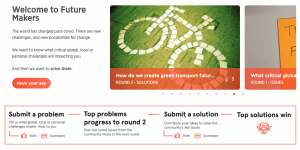 Over 1,300 students joined in the crowdsourcing challenge, ranging from first year through to PhD students. The challenge happened in two rounds based on a student-led problem-posing and problem-solving model. The aim of the project was to provide a learning and engagement opportunity for students to have conversations and connect with one another around the critical issues of the future outside of their formal units of study. The project also aimed to capture understanding of student voices and perspectives on the critical issues they are facing to inform the School's educational design and development in ways that are relevant and oriented towards equipping future leaders to collaboratively solve critical problems.
How did student crowdsourcing work?
In Round 1, students were asked what critical global, local, and personal challenges were concerning or enthusing them. Through the platform, students were able to submit a short written post with accompanying images/video and tags in response to this question, as well as vote for, comment on and subscribe to others' contributions. Gamification allowed students to receive points for different interactions, such as submitting an idea or voting or commenting on another's idea. A "Leaderboard" on the home page showed users ranked by points, as well as recent posting, voting and commenting activity.
In Round 2, the project team took the top-voted issues submitted by students in Round 1 and posed these back to the community as challenges they could solve together, including asking students how they felt their education could best equip them to respond to such challenges. Across the two rounds, students cast 151 votes, made 126 comments and submitted 36 ideas. There were a total of 5,012 page views and 1,923 blog post views. At the end of the challenge, five winning ideas with the most engagement from the community were selected to be rewarded with a bespoke industry networking session designed with partners from the Business School's External Engagement team.
What were the outcomes?
Students' contributions gave extraordinary insight into issues and opportunities they face in a post-COVID world. Some of the themes that emerged were the future of education, innovation in manufacturing, transforming small and medium enterprises, green transport, organisational culture changes, consumption and sustainability, economic measurement, social inequality and AI technology futures. To give a snapshot of one of the problem-posing and problem-solving dialogues that students engaged in, one of the top-voted issues was around the need for designing incentives or structures to increase the uptake of greener transportation options. This issue progressed to the second round, where students were asked to respond with solutions. The issue received several suggestions, including buses powered by human waste and an idea for redesigning airplanes with lighter materials and a new design that enhances the aerodynamics for fuel efficiency. Some students also used the platform to share projects they've developed independently, such as a student who shared a news app they built to counter the negative impact of "the attention economics of the internet and social media […] causing political silos, echo chambers and ultimately cognitive dissonance". Isolation and the desire for a more connected and collaborative educational experiences with other students also emerged as a key concern. One of the issues submitted in Round 1 was on the lack of student engagement in the classroom. In this post a student, suggested:
"By combining both student engagement and interdisciplinary learning, a peer network can be developed that enrich individuals from all angles, better preparing them for the uncertainty of the future".
This was met with a response from another student, titled "The redesigned classroom". Their contribution proposed an interdisciplinary approach to curriculum, suggesting that by,
"expanding the limits of one's chosen discipline, educators and students alike will be able to discover and be motivated to harmonise knowledge in a way that holistically reflects the interaction of disciplines in the real world".
The team also went out into the foyer of the Abercrombie Building to talk with students about the critical global, local and personal challenge they face.
What is crowdsourcing?
Crowdsourcing is a popular method for collectively ideating within organisations, often used as a form of staff consultation in developing organisational strategy by harnessing "collective intelligence" (Wexler, 2011). The application of crowdsourcing to education by inviting student participants as part of their co-curricular learning is a more recent development (Farasat et al 2017). Future Makers has served as a pilot in the Business School to explore the pedagogical potential of crowdsourcing for learning, or "crowdlearning", as well as to understand the affordances of such platforms as innovative learning and engagement technologies.
The Business School's Business Not As Usual 2.0 2025 Strategy aims to "enhance our learning community's capacity to interrogate and address critical global and local challenges". Future Makers makes a critical contribution to this endeavour by inviting students to participate in dialogue and debate around what they perceive the critical challenges of the future to be, and to work with each other to design solutions and ideate the core capabilities they see as necessary to respond to such challenges as future leaders. This both builds capacity within students to learn with and from each other in co-curricular contexts, and produces findings on student perspectives of global and local challenges that can be used in educational and curriculum development, especially informing authentic contexts and cases through the Connected Learning at Scale (CLaS) project.